Ernest W. Gilman Jr. "Kiwa," Mohegan Pipe Carrier May 3, 1934 - October 9, 2006
Mohegan Pipe Carrier Ernest W. Gilman, known as Gilly, was born in New London on May 3, 1934 to Ernest W. and Thelma (Strickland) Gilman Sr. The oldest of 11 children in his family, he remembered that his father worked 12 - 16 hours a day to put bread on the table. He was educated in a one-room schoolhouse on Mohegan Hill until he went to the Uncasville School for third grade. On March 7, 1959, in Naples, Italy, he was united in marriage to Maria (Giorgio) Gilman. They met when he was stationed in Italy while serving in the U.S. Navy. Gilly and Maria had three daughters, Maria, Thelma and Rita. He loved his family and friends and had tremendous pride in being a Mohegan Indian. He would do anything for the Tribe. Gilly will be remembered for his clam chowder at Mohegan Homecomings, for sharing the bounty of his garden with everyone, and for being willing to dig into his wallet to help defray the cost of the stamps it took to mail out notices to Tribal members before Federal Recognition.

He passed away peacefully at Haven Health Care in Norwich at the age of 72.
Gilly served the Tribe for over 40 years and was very instrumental in helping the Tribe win Federal Recognition. One of his more important contributions was maintenance of the Tribal Rolls. He served on the Tribal Council in the 1970s, 80s and 90s. He was later elected to the Council of Elders and served until he stepped down for health reasons in February 2003.

His great uncle was Chief Harold Tantaquidgeon and his great aunt was Medicine Women Gladys Tantaquidgeon. "It was through their influence that I first grasped the importance of acquiring and sharing the heritage and culture of our people," he said. "I honor these great influences in my life by continuing in their teachings and sharing it with all peoples." He managed the annual Homecoming celebration for 24 years and the Wigwam Festival for five years.

Gilly was so proud of being a Mohegan that at his suggestion the Tribe created bumper stickers which read "Mohegan Indian - And Proud of It."
As Tribal Pipe Carrier, Gilly performed pipe ceremonies and blessings at all important Tribal events, weddings and funerals. He remembered how much pressure he felt serving as Pipe Carrier at a very important event - the opening of Mohegan Sun on Oct. 12, 1996. As he stood outside the Spring entrance that morning, he struggled to light the sweet grass, which can be difficult if it is damp. Thousands of patrons were impatient to get inside and a few started to yell at him to hurry up. As soon as he completed his ceremonial duties, he jumped out of the way to make room for people rushing the doors.

During the late 1990's, Gilly handled the blessing of human remains and artifacts returned to the Tribe through the Native American Graves and Repatriation Act. He travelled to Yale's Peabody Museum to retrieve one particularly large group of remains from Norwich, now reburied at the Royal Mohegan Ground. He also conducted a ceremony marking the return to the Tribe of a seventeenth century Mohegan succotash bowl from Leffingwell Inn, attributed to the great Mohegan Sachem, Uncas.
Gilly practiced his Native American culture by making medicine bags and walking sticks for anyone. He was a traditional craftsman, who liked working with deer skin and antlers. An avid hunter and fisherman, he enjoyed nature. As a youngster, he ran cross-country for Norwich Free Academy and would run 20 miles a day to keep in training. His interest with radio communications continued long after he left the Navy. He became an avid HAM radio operator, often staying up until 2 a.m. talking on the CB and HAM radio.
Gilly enlisted in the U.S. Navy on the day he turned 17. In a 1997 interview with Tribal Archivist Faith Davison, he told the following story about boot camp: "They sent me to boot camp on the Great Lakes. We'd go to Milwaukee on leave. Some of the fellows knew I was Mohegan and called me 'Chief.' One of my buddies called me 'Cochise.' We were on leave one time and we went into a place in Milwaukee where we all ordered a glass of beer. My friend called me 'Cochise,' and the next thing I knew, the bartender came over saying, "Can't you read?" Of course, I could read as well as the next fellow, so I asked him what did he mean? He turned me around and pointed at a sign over the door, which said 'No Indians served here.' We left and went down to the next place. Nobody called me 'Cochise' again that night." He served in the Navy for 20 years during the Korean Conflict and the Vietnam War. He was a radioman and cryptographer and served aboard aircraft carriers, including the Forrestal and the Constellation. Working in communications in a supervisory capacity, he set up training programs. He became proficient in the Japanese and Italian languages. After he was honorably discharged from the Navy, he went to work for Electric Boat in Groton as an electrician in sonar installation. He worked there for 24 years until he retired in 1995.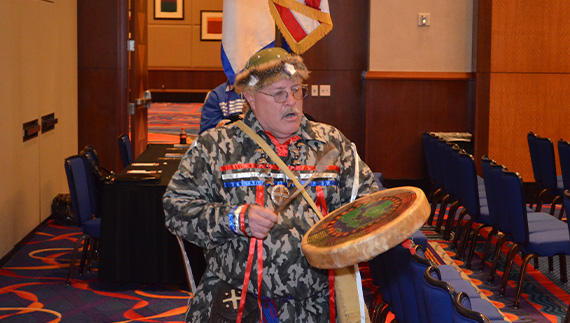 Pipe Carrier
The Pipe Carrier is a Tribal member that is willing and able to carry and honor the pipe, and conduct pipe ceremonies in accordance with traditions established by previous Mohegan Pipe Carriers.