Mohegans have served in every US conflict for thousands of years. Today, the Mohegan Tribe continue to honor military veterans in various ways.
Several Mohegan Veterans comprise the Mohegan Tribal Veterans Association, a volunteer group of Tribal Veterans who are serving or have served in the military. As a group, they represent all Tribal veterans by carrying the flags of the United States and Mohegan Tribe, along with the Eagle staff and other service flags at events. The objective of this association is to educate and inform the membership and public of the contributions Mohegan veterans have made since the first recorded contact with non-Natives. In addition, the Veterans Association replaces worn flags at Fort Shantok Burial Grounds as needed, helps other veterans get benefits they deserve, and help with memorial markers.
Mohegan Veterans are also honored with a display at the Mohegan Church. This exhibit is called "Generations of Mohegans Serving Their Native Land," is shaped like a tree and includes photos of many Mohegan veterans.
Mohegan Sun hosts an annual Vets Rock Expo that has also often included a major concert in the Arena. These events are dedicated to and directly benefit veterans, reserves, and active-duty military and in many ways, their loved ones as well. This event allows for active duty military, veterans and reserves to take advantage of a variety of services that include:
Save-A-Suit: an organization that provides professional business attire and other resources to help support the transition from military life to a civilian career.
Hiring our Heroes: an organization dedicated to connecting veterans, active-duty military members, reserves, and military spouses with meaningful employment opportunities.
Project New Hope: A New England-based, military-affiliated, resource hub that finds and delivers the wellness resources needed by Veterans, Service Members, their families, and full units that have deployed together.
In addition to the event for veterans, Mohegan properties across the country provide special offers and promotions on Veterans Day, and Mohegan Sun and Resorts Casino Hotel offer military and veteran discounts all year long.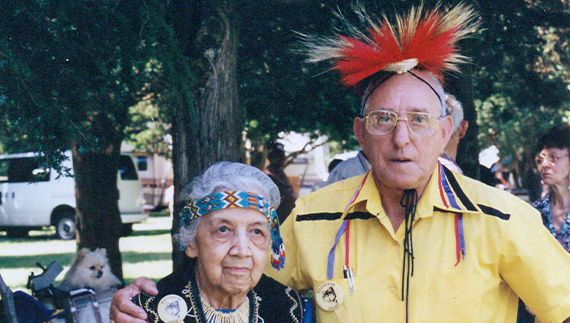 Chief Ralph W. Sturges "G'TINEMONG"
Chief Sturges served his country during World War II as a security and intelligence officer and gunnery expert in the United States Army intelligence division in New Guinea and the Philippines.