The economic development and self-sufficiency of tribes across the country are important, which is why the Mohegan Tribe supports Indian Country in a variety of ways.
Leadership from the Mohegan Tribe have worked with the Biden administration and national government officials, such as United States Secretary of the Interior Deb Haaland, to discuss ways to strengthen Tribal economies and bolster community resilience, as well as provide recommendations as to how the $20 billion in the American Rescue Plan allocated for Indian Country should be formulated.
The Tribal Council regularly meets with the National Indian Gaming Commission to play a supporting role in tribal economic development, self-sufficiency, and strong tribal governments. They also attend the annual Indian Gaming Association Conference where the community gathers to learn, network, and exchange industry-specific ideas and a cultural celebration of success, strength, and self-reliance.
A prime example of how the Tribe sets out to help and empower other Native tribes lead their own organizations was the Mohegan Tribe's role in Paragon Casino resort. In spring of 2016, the Tunica-Biloxi Tribe and the Tunica-Biloxi Gaming Authority asked the Mohegan Tribe and MGE to act as the manager of their Paragon Casino Resort in Marksville, Louisiana. Over the course of that partnership, the Resort successfully navigated to reduce its debt by over two-thirds and recently refinanced its outstanding debt on very favorable terms. After five years of consulting and management agreements, along with the tools, framework and guidance provided by MGE, the Tunica-Biloxi Gaming Authority assumed full management of Paragon Casino Resort.
Working directly with the Cowlitz Tribe, Mohegan entered into development and management agreements with them to plan, design, and develop a casino-resort on its 152-acre reservation near La Center, Washington. The partnership between the two tribes created one of the most significant investments in Southwest Washington—ilani—which opened its doors in April 2017.
President Joe Biden recently announced the appointment of Chief Many Hearts, Dr. Lynn Malerba to serve as Treasurer of the United States. This appointment helps expand the government's relationship with Tribal nations, helping the Department support the development of Tribal economies. With Chief Malerba serving as Treasurer, the agency can work with indigenous tribes on economic issues that are important to Indian Country and ensure their voices are being heard.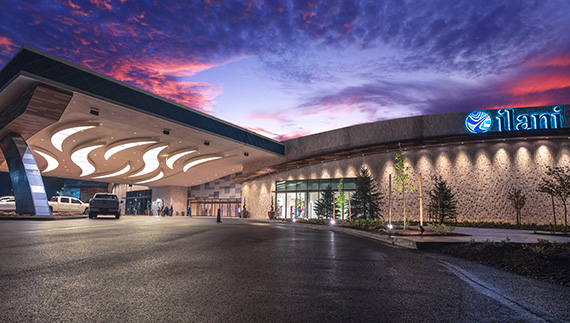 ilani
In September 2004, Mohegan (formally known as MGE), entered into development and management agreements with the Cowlitz Tribe to plan, design, and develop a casino-resort on its 152-acre reservation in Ridgefield, Washington.