Fidelia Fielding (1827-1908)
Mohegan Cultural keeper Fidelia Hoscott Fielding (1827-1908) preserved and maintained traditional knowledge through the 19th century, a time when the use of language and other traditional cultural practices were met with resistance. Fidelia is considered the last native speaker and preserver of the Mohegan Pequot language. Living with her grandmother, Martha Uncas, she lived a traditional Mohegan life where the Makiawisug, or Little People, held great importance. Fidelia and her grandmother would converse in their native language and continue traditional rituals and medicinal practices.
Following her marriage to William Fielding in 1853, Fidelia continued to live a traditional life. Fidelia was the last to live in what was known as a "tribe house," a log style dwelling the replaced the wigwams in the 17th and 18th centuries. Following William's death, Fidelia had very little contact with anyone outside the Mohegan Community.
In 1900, Frank Speck was introduced to Fidelia Fielding following a camping trip at Shantok. Speck, a student of Anthropology at Columbia University, was encouraged by his professors to continue to visit Fidelia to gather information about the Mohegan language and culture. Tragically, several of the diaries would be lost in a fire. The remaining diaries remained in Speck's possession until his death in 1950. In 2020, Cornell University graciously agreed to return the diaries to the Mohegan Tribe.
Before her death in 1908, Fidelia would pass along many of these traditions to a young Gladys Tantaquidgeon. Along with stories of the Makiawisug, Fidelia gave Gladys a belt the once belonged to Martha Uncas.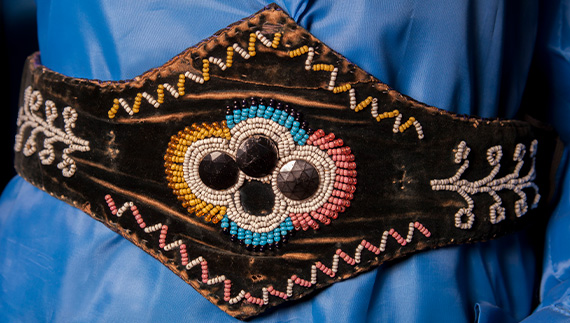 A Piece of History
This belt was worn by 3 Mohegan women: Martha Uncas, Flying Bird, and Medicine Woman Gladys Tantaquidgeon.