The formal title of Medicine Woman was restored by the first modern Mohegan Elders Council in 1991. To become a Medicine Person, an individual must be trained and well-versed in Tribal customs. They must possess a combination of exceptional powers and abilities to be truly "good medicine" for the people.
For centuries, Mohegan healing and medicine traditions were passed down through a determined line of women, including Lucy Occum, Martha Uncas, Emma Baker and Gladys Tantaquidgeon. Although Medicine titles had been denounced by early Christian missionaries, these women kept those beliefs alive by learning from one another--generation to generation.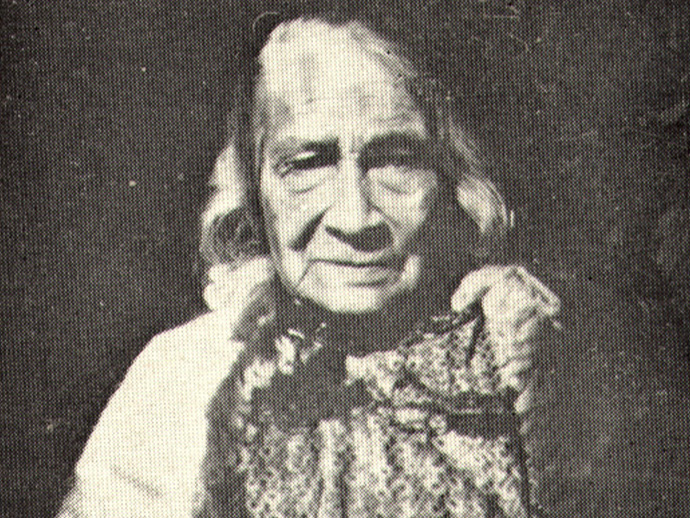 Emma Baker (1859-1916)
A major force in celebrating and preserving Tribal culture in the late 1800s, Emma Baker (1828-1916) is credited with revitalizing the Green Corn Festival, or Wigwam Festival. She incorporated it into the goals of the Mohegan Church Ladies' Sewing Society in 1860, just before the break-up of the Mohegan Reservation. The Festival helped galvanize Tribal solidarity during a time of fragmentation. It was Emma who recorded the desecration of the Norwich Royal Mohegan Burial Ground. She led the Mohegan Church Ladies Sewing Society in their matriarchal role considering new chiefs and discussing land claims. She also chaired the Tribal Council and represented the Tribe before the Connecticut legislature. She gained and passed on a knowledge of traditional herbal medicine that she learned from Martha Uncas.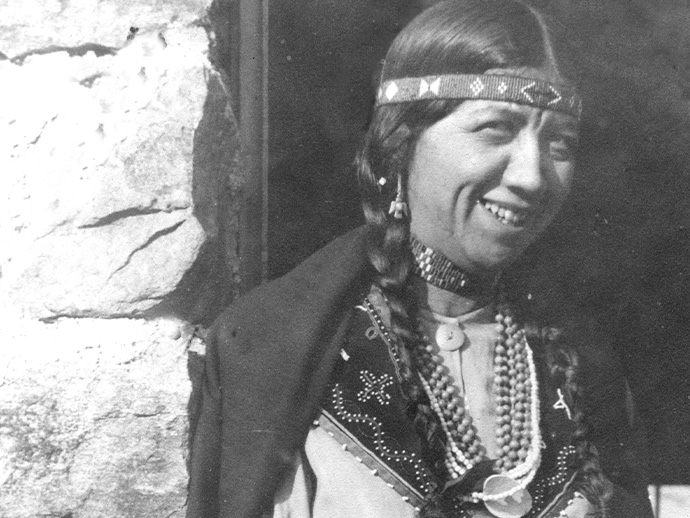 Gladys Tantaquidgeon (1916-2005)
Trained by her three "grandmothers" in traditional herbal lore, Gladys Tantaquidgeon (1899-2005) is credited with preserving much of Mohegan history and culture as a living part of Tribal life and heritage. Her long life spanned the last days of those who lived traditionally to federal recognition and the Tribe's revival. She passed on a rich oral history from previous medicine women who spoke the Mohegan language and had heard the stories of another time. From the century's early chiefs and elders she learned of a culture that was nearly extinguished. Her understanding was deepened from her studies in ethnobotany and anthropology at the University of Pennsylvania under Dr. Frank Speck, a noted anthropologist who studied Indian culture. She herself studied other tribes and learned of the many connections and differences among them. In 1931, she co-founded Tantaquidgeon Museum along with her brother, Harold and father, John. In the 1930s she served as a community worker for the Bureau of Indian Affairs among western tribes and lived for years among the Lakota Sioux, helping them deal with unbearable poverty and cultural oppression. During the 1940s she worked as a specialist for the Indian Arts and Crafts Board. When she returned to her own tribe in 1947, she spent the next years expanding her knowledge of Mohegan history and culture. All of this helped the Tribe prove its inherent sovereignty and unbroken heritage and gain federal recognition in 1994.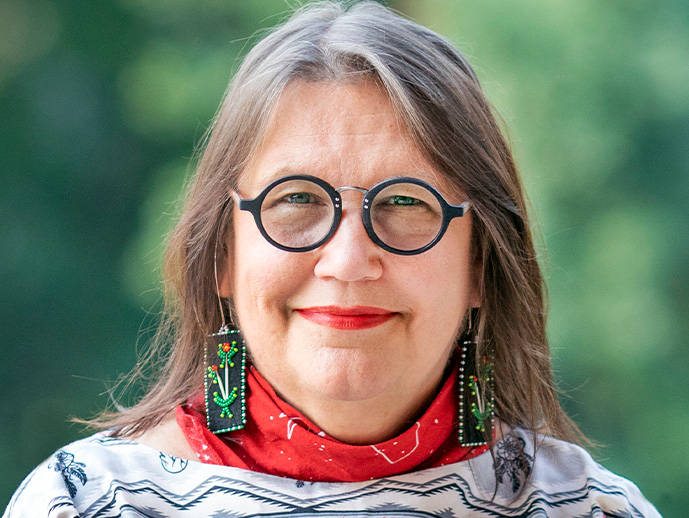 Melissa Tantaquidgeon Zobel, Medicine Woman and Tribal Historian (2008 -2022)
Melissa Tantaquidgeon Zobel has taken a very active role in the cultural and historical concerns of the Mohegan Tribe since her childhood in Uncasville, Connecticut, and was appointed Mohegan Medicine Woman in April 2008. Her great-aunt, Medicine Woman Dr. Gladys Tantaquidgeon, trained her in Tribal oral traditions, traditional lifeways and spiritual beliefs.
After graduating from The Williams School in New London, Connecticut, Zobel earned a B.S.F.S. in history/diplomacy from Georgetown University, an M.A. in history from the University of Connecticut, and an M.F.A. from Fairfield University in creative writing.
Zobel's writing on Native issues has been a constant in her life. In 1992, she won the first annual Non-Fiction Award of the Native Writer's Circle of the Americas, for her manuscript The Lasting of the Mohegans (Mohegan: Little People Publications, 1995). Shortly after that, Zobel became the first American Indian appointed by Governor Weicker to the Connecticut Historical Commission. In 1996, she received the first annual Chief Little Hatchet Award, granted for contributions to the success and survival of the Mohegan people. Zobel has written several other books under the name Melissa Jayne Fawcett, including Medicine Trail: The Life and Lessons of Gladys Tantaquidgeon (University of Arizona Press, 2000) and a traditional Mohegan children's story co-authored with Joseph Bruchac, entitled Makiawisug: The Gift of the Little People (Mohegan: Little People Publications, 1997). Zobel has also authored novels involving mystery and supernatural elements in a Native context, including Oracles, (University of New Mexico Press, 2004) Fire Hollow (Raven's Wing Books, 2010), Wabanaki Blues (Poisoned Pen Press, 2015) and Snowy Strangeways (Urban Farmhouse Press, 2018). In 2018, Zobel won the Los Angeles Film Award for her feature fantasy screenplay for Snowy Strangeways. Her other feature screenplay, Flying Bird's Diary, about the life of Fidelia Fielding, the preserver of the Mohegan language, has won numerous screenplay awards in New York, Los Angeles, England and Italy. Zobel is also working on a television version of Wabanaki Blues.
Melissa is the daughter of Mohegan Nonner Jayne Fawcett and Dr. Richard Fawcett, and the mother of three adult children, Rachel, Madeline and David Uncas. She is married to her high school sweetheart Randy Zobel and lives in Mystic, Connecticut.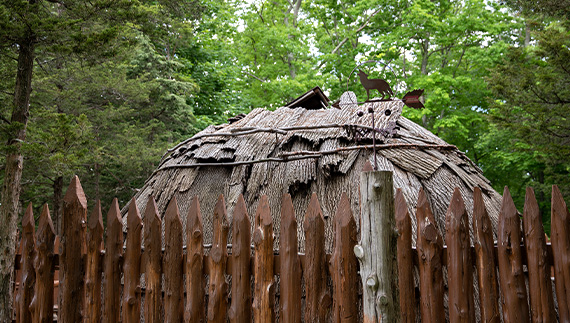 Tantaquidgeon Museum
The oldest Native American owned and operated museum in the country.