Recognition
The Mohegan Tribe gained federal recognition as a sovereign nation on March 7, 1994. However, we have existed in southeastern Connecticut for hundreds of years and as part of the indigenous North American population for 10,000 years. We've lived together, celebrated our traditions together and struggled to survive together as a Tribe through many dark years.
Federal recognition has given the Mohegan Tribe the opportunity to conduct itself as a sovereign nation. To get there, the Tribe had to meet strict criteria, but was able to meet these high standards of proof and answer questions about why the Tribe would take the trouble.
Federal recognition for the Mohegan Tribe was the culmination of years of work.
Governor Lowell P. Weicker, Jr.: (then Connecticut Governor)
"I don't think there is one of us as American citizens that isn't proud to go ahead and rectify the mistakes of history. That has now been done."
Solidifying Sovereignty
In 1998, President Clinton signed an Executive Order recognizing the sovereignty of Indian nations and defining the U.S. relations with recognized Indian tribes as "government-to-government".
The Mohegan Tribe is one of a few tribes that have been able to meet the most rigorous 1978 Bureau of Indian Affairs standards for recognition as a sovereign Indian tribe. While the fairness of these standards is being debated, the Mohegan Tribe is proud of the vast proof of its continuous existence.
BIA CRITERIA FOR FEDERAL RECOGNITION
Under the BIA's regulations, a tribe may petition the interior secretary for recognition. The petition must meet seven criteria. It must contain:
A statement of facts establishing that the tribe has been identified from historical times until the present on a substantially continuous basis as "American Indian" or "aboriginal;"
Evidence that a substantial portion of the group inhabits a specific area or lives in a community viewed as American Indian and distinct from other populations in the area, and that its members are descendants of an Indian tribe which historically inhabited a specific area;
Evidence that the tribe has maintained tribal political authority or influence over its members as an autonomous entity throughout history until the present;
A copy of the tribe's governing document, including membership criteria, or, if it does not have a formal governing document, a description of its membership criteria and governing procedures;
An official membership list, any available former lists, and evidence that current members descend from a historic tribe or tribes that combined into a single autonomous political entity;
Evidence that the tribe consists mainly of people who are not members of an acknowledged North American Indian tribe; and
A statement that the tribe is not the subject of the congressional legislation that has terminated or forbidden the federal trust relationship (per 25 CFR Part 83. 7a-g)*.
* These were the standards in place in 1994, when the Mohegan Tribe was recognized. They have since changed.
Finding Proof
Meeting federal standards meant providing historical documentation of our impact and collective identity as a tribe. Much of Mohegan history is handed down through oral tradition, so finding the right documents might have been a big challenge.
Ultimately there was no lack of documentation, with 20,000 pages of documents submitted as part of the process. Collecting this took years of work by many Tribal members.
Because of our rich and living history, evidence of Mohegan existence and identity as a tribe is abundant even to the casual observer today in local place names, family names, historic sites, storytrails, artifacts and living culture.
Why Pursue Recognition
Native Americans choose to pursue, or not pursue, federal recognition as it relates to the best interests of their respective tribal communities. The Mohegan Tribe chose this path to secure the benefits of a government-to-government relationship with the United States of America. Those benefits include, among others, the ability to govern our own affairs, access to federal programs and federal protection for tribal lands, including graves. This protected status extends archaeological protection and sovereignty on those properties as well. With new empowerment, the Mohegan Nation is realizing its vision.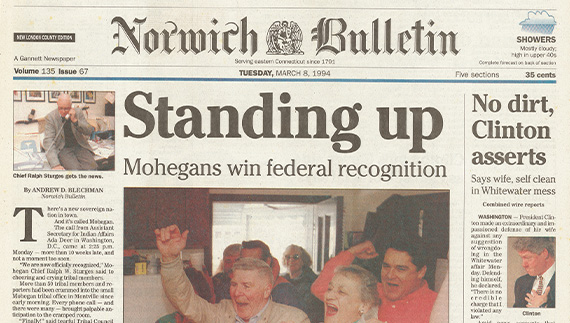 Governor Lowell P. Weicker, Jr.
"I don't think there is one of us as American citizens that isn't proud to go ahead and rectify the mistakes of history. That has now been done."